Land Cruiser FJ60 and FJ62 Air Conditioning
60 and 62 Series Factory Air Conditioning Compressor, Evaporator, Hoses, Clutch and Belt
8/80-1/90 60 and 62 Series
Click on the BLUE HIGHLIGHTED NUMBERS in the line drawings to display a COMPLETE part listing of that part number.
60 & 62 Series Factory Air Conditioning Parts
Suction Valve
Factory Air Conditioning Repair Manual
#053-30 Evaporator
Evaporator Assembly
Air Conditioning Evaporator
8/80-8/87 FJ60 Air Conditioning Compressors
8/87-1/90 FJ62 Air Conditioning Compressors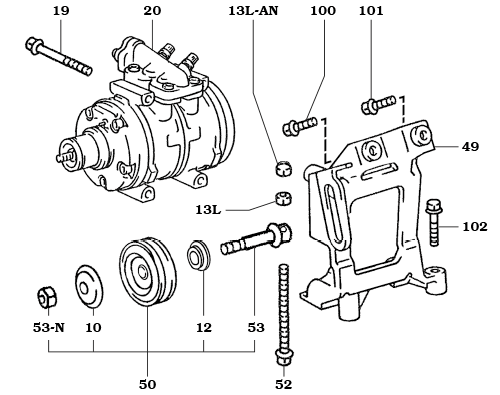 Toyota does not offer a complete kit for factory air. Specter does not sell an aftermarket A/C kit.
AC Idler Pulley Bearing
AC Retrofit Kit
The AC Retrofit Kit includes the components necessary for a qualified shop to upgrade your R12 system to the new refrigerant R134. The parts included are: the adapters for the high & low pressure fittings, new o-rings and receiver dryer. Kit does not include refrigerant or compressor oil.
Belt Set
Belt Set includes all three replacement belts needed for your year and model of Land Cruiser.
Air Conditioner Belt
Toyota OEM Air Conditioning Repair Manuals
(click for large picture)